Motor Protection Circuit Breaker J3VE
Product Detail
More Description
Product Tags

● This series of circuit breakers are mainly composed of mechanism, contact system, tripping device of arc extinguishing system, insulating base and shell.
● J3VE1 type circuit breakers are equipped with auxiliary contacts. J3VE3 and J3VE4 type circuit breakers are not equipped with auxiliary contacts, but they can be equipped with auxiliary contact accessories.
● There are two types of trips in circuit breakers: one is a bimetallic inverse time delay trip for overload protection; the other is an electromagnetic instantaneous trip for short-circuit protection. The circuit breaker also has a temperature compensation device, so the protection characteristics are not affected by the ambient temperature.
● J3VE1, J3VE3 and J3VE4 circuit breakers are operated by button, knob and handle respectively.
● The circuit breaker is installed in front of the board. J3VE1, J3VE3, type circuit breakers also have a standard mounting card, which can be directly installed on a standard rail with a width of 35mm (should comply with DINEN50022).
● The mechanism of J3VE3 and J3VE4 circuit breakers uses quick-on and quick-break structures, and their tripping devices have limited current characteristics, so the circuit breaker has a high short-circuit breaking capacity.
● The front of the circuit breaker has a pointer for adjusting the current of the tripping device, which can set the tripping current within the specified range.
● The circuit breaker can be attached with accessories such as undervoltage release, shunt release, indicator light, lock, and various protection types of enclosures. Please specify when ordering.
Model
3VE1
3VE3
3VE4
Pole NO.
3
3
3
Rated Voltage(V)
660
660
660
Rated Current(A)
20
20
20
Rated breaking capacity of short circuit
220V
1.5
10
22
380V
1.5
10
22
660V
1
3
7.5
Mechanic life
4×104
4×104
2×104
Electric life
5000
5000
1500
Auxiliary Contact Parameters
DC
AC
Rated Voltage(V)
24, 60, 110, 220/240
220
380
It can be
matched with
the auxiliary
contact only
Rated Current(A)
2.3, 0.7, 0.55, 0.3
1.8
1.5
Protective Features
Motor Protection
Su Current Multiple
1.05
1.2
6
Action Time
No action
<2h
>4s
Distribution Protection
Su Current Multiple
1.05
1.2
Action Time
No action
<2h
Model
Rated Current(A)
Release Current Setting area(A)
Auxiliary contacts
3VE1
0.16
0.1-0.16
without
0.25
0.16-0.25
0.4
0.25-0.4
0.63
0.4-0.63
1
0.63-1
1NO+1NC
1.6
1-1.6
2.5
1.6-2.5
3.2
2-3.2
4
2.5-4
2NO
4.5
3.2-5
6.3
4-6.3
8
5-8
10
6.3-10
2NC
12.5
8-12.5
16
10-16
20
14-20
3VE3
1.6
1-1.6
Special
2.5
1.6-2.5
4
2.5-4
6.3
4-6.3
10
6.3-10
12.5
8-12.5
16
10-16
20
12.5-20
25
16-25
32
22-32
3VE4
10
6.3-10
Special
16
10-16
25
16-25
32
22-32
40
28-40
50
36-50
63
45-63
Outline and Mounting Dimension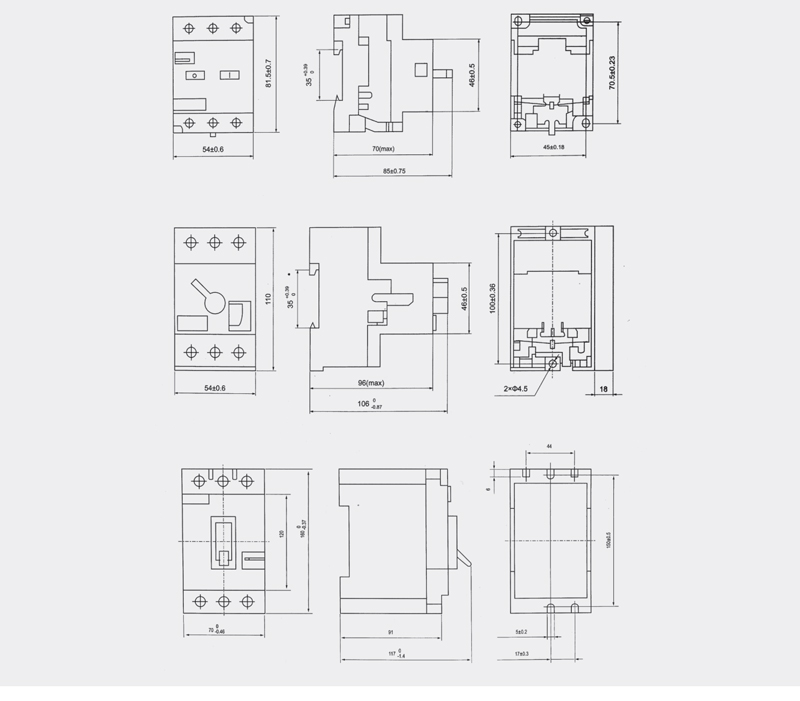 ---
---
Six advantages:
1.Beautiful atmosphere
2.Small size and high segment
3.Double wire disconnect
4.Excellent cooper wire
5.Overload protection
Green product and environment protection
Write your message here and send it to us